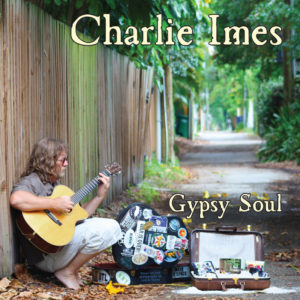 Charlie Imes "Gypsy Soul"
Produced by Jeff Berkley and Charlie Imes
Recorded and Mixed by Jeff Berkley for Berkley Sound, San Diego, CA
Mastered by Paul Abbott for Zen Mastering, Encinitas, CA

© 2017 Crimes Of Music Productions
All Rights Reserved
Running Time @ 57:26

---
1. Gypsy Soul (4:17)
by Charlie Imes & Donny Brewer – (2016 Crimes of Music and Donny Brewer Music/BMI)
Charlie – Vocals & Acoustic Guitar / Jeff Berkley – Electric Guitar / Chris Klich – Sax
Jim Reeves – Bass  / Duncan Moore – Drums  / Cathryn Beeks– Backing Vocals



2. Sunshine On A Rainy Day 
(3:55)
by Charlie Imes – (2016 Crimes of Music/BMI)
Charlie – Vocals & Acoustic Guitar / Sharon Whyte – Piano / Jim Reeves – Bass
Duncan Moore – Drums

/ Cathryn Beeks – Backing Vocals 
 


3. Something Fine (4:16)
by Jackson Browne (1972 Swallow Turn Music)
Charlie – Vocal & Acoustic Guitar / Dennis Caplinger – Violin / Jeff Berkley – Backing Vocals
4. Dancin' In Your Bucket Seats (4:33)
by Calman Hart & Charlie Imes– (2017 Deadhorse Music and Crimes of Music/BMI)
Charlie – Vocal & Acoustic Guitar 
/
Bob Ryan – Electric Lead Guitar
Chris Klich – Sax

/ Jim Reeves – Bass / Duncan Moore – Drums


Cathryn Beeks & Jeff Berkley – Backing Vocals 

5. Feel The Wind (4:05)
by David Beldock (2008 Dockbell Music/BMI)
Charlie – Lead Vocal / David Beldock – Acoustic Guitar

Calman Hart – Harmonica / 
Jeff Berkley – Backing Vocals
6. Walk On The Beach (4:30)
by Rob Mehl (2005 Rob Mehl Music)
Charlie – Vocal & Acoustic Rhythm Guitar
/ Chris Klich – Flute / David Beldock – Electric Guitar
Jim Reeves – Bass / Duncan Moore – Drums / Cathryn Beeks – Backing Vocals


7. Come On In (4:44)
by Jeff Berkley & Calman Hart (2002 Deadhorse Music/BMI)
Charlie – Acoustic Rhythm Guitar
/ David Beldock – Electric Lead Guitar
/ Sharon Whyte – Piano
Jim Reeves – Bass / Duncan Moore – Drums  / Jeff Berkley & Cathryn Beeks – Backing Vocals

8. Old California Town (3:28)
by Larry Robinson (2006 Clatterbuck Music/BMI)
Charlie – Vocal, Acoustic Guitar/Jeff Berkley – Electric Guitar/Dennis Caplinger – Violin, Mandolin

Jim Reeves – Bass / Duncan Moore – Drums

/ Jeff Berkley & Cathryn Beeks– Backing Vocals



9. Hands (4:08)
by Christopher Dale (2010 Scorch & Soda Music/ASCAP)
Charlie – Vocal & Acoustic Guitar / Jeff Berkley – Electric Guitars / Sharon Whyte – Organ
Jim Reeves – Bass / Duncan Moore – Drums

 / Cathryn Beeks & Jeff Berkley – Backing Vocals 
 

10. Suppertime (4:29)
by Calman Hart (2014 Deadhorse Music/BMI)
Charlie – Vocal & Acoustic Guitar 
/ Dennis Caplinger – Fiddle & Banjo
Jeff Berkley – Bass & Backing Vocals 

11. Walking My Baby Back Home (2:50)
by Roy Turk & Fred E. Ahlert (1930 Chappel Music)
Charlie – Acoustic Guitar
/ Bob Ryan – Electric Lead Guitar
/ Chris Klich – Clarinet
Jim Reeves – Bass  / Duncan Moore – Drums / Cathryn Beeks – Backing Vocals
 


12. Momma Gears Up For A Fight  (3:21)
(Charlie Imes – 2014 Crimes of Music/BMI)
Charlie – Vocals & Acoustic Guitar

/ Bob Ryan – Electric Guitar
/ Chris Klich – Sax
Jim Reeves – Bass / Duncan Moore – Drums

/ Cathryn Beeks – Backing Vocals 

13. I Can Do It
 (4:42)
by Charlie Imes & Kristin McFadden– (2016 Crimes of Music/BMI)
Charlie – Vocal & Rhythm Guitar
 / Dennis Caplinger – Banjo & Fiddle
/ Bob Ryan – Electric Guitar
Jim Reeves – Bass / Duncan Moore – Drums

/ Cathryn Beeks – Backing Vocals
14. Christmas Feeling (4:36)
(Charlie Imes – 2014 Crimes of Music Publishing/BMI)
Charlie – Acoustic Guitar / Dennis Caplinger – Violin / Sharon Whyte – Accordion
Cathryn Beeks & Jeff Berkley – Backing Vocals

Feeling Grateful
Album Production: Thanks to the multi-talented Jeff Berkley for everything, Paul Abbott for his ear and Masterful touch, and the incredible musicians who contributed so much. That's a lot of musical talent there.  Thanks also to my talented songwriting friends for allowing me to record their tunes – Christopher Dale, Rob Mehl, Pat & Larry Robinson, David Beldock, Calman Hart & Jeff (again). Thanks also to Melissa Wilson for her photography and graphic design work on the new logo and T-shirts, and especially to Laurie Hayes for the great photography, album design work & everything else.

Website Development and Video: Rick Schettino the webmaster, Mike Farkas of PM ProductionZ for working his video and editing wonders, Laurie Hayes (Banker 1), Sherry Moore (Banker 2) and especially Susan Hudson (Record Company Executive)
www.CharlieImes.com

San Diego Ground Crew:  Jamie Moyer, Kimberly Aw, Pam Hoye, Tim Krupsaw, Jon & Lisa Lang, Lori Saldana, Kathy MacNeil, Scott Tadlock, Brenda Butts & Gaylene Thomas, Martha Sullivan, Christopher Dale, Jonathan & Vicki Morton and all the gang at the San Diego Mission Bay Boat & Ski Club..